Welcome to the Magic Duels Wikia
The Magic Duels Wikia is a collaborative guide and knowledge base that you can edit! It aims to document everything related to Wizards of the Coast's Magic Duels, the new multi-platform Magic: The Gathering video game!
Beginner's Guide
In collaboration with the Magic Duels subreddit we're creating a
Beginner's Guide
for new players including deckbulding guides, FAQ and known bugs—An abundance of resources to get you started!
Content
Featured article - Magic Duels
Magic Duels is a digital free-to-play Magic game that came out July, 2015 on Xbox One, PC via Steam, and iPad tablets. A release for PlayStation 4 was considered, but later canned. It is the successor to the Duels of the Planeswalkers series.
Description
[
]
Magic Duels focuses on bringing in newcomers. Most of the learning comes through situational tips as you play. As you play the game, you earn coins which you trade in for booster packs. If you want to get cards quicker, you can also buy coins, but all gameplay content is earnable just by playing.
Magic Duels launched with the new storyline featured in the Magic Origins set, and continued to expand with regular downloadable contents that reflects the then-upcoming sets, up to Amonkhet. The lead designer for Magic Duels: Origins is Drew Nolosco.

Polls and Top Tens
Special Announcement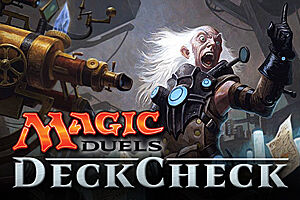 Haven't got the full card collection yet and want to see which cards you need to build those decks the pros play? Take a look at
MagicDuelsDeckCheck!
---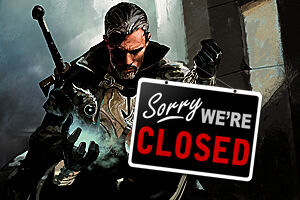 On June 13, 2017 Wizards of the Coast announced there will be no further content updates and support for Magic Duels after Amonkhet. See more details here.


Magic Duels News
Important links
Official website
Magic Duels subreddit
Tech support
Magic Arena Wiki
CovertGo Blue's MagicDuels Stream on twitch.tv

Magic Duels Wikia Forum
<wikiaforum />
Featured video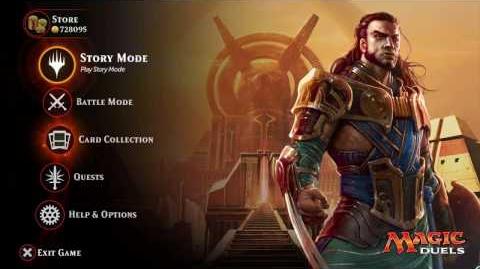 Helping out
Contribute and help make us the best resource for
Magic Duels
! To start a new article, just enter the title in the box below and click the button. Or look at
Special:WantedPages
and click one of those to start it.
Not sure where to start?
If you are new to wikis, see
Help:Getting Started
.