Jurassic World: Dominion Dominates Fandom Wikis - The Loop
Play Sound
---
Temurgeing Talent
24 Lands


9 Forest
1 Lumbering Falls
4 Island
2 Mountain
2 Sulfur Falls
2 Hinterland Harbor
3 Aether Hub
1 Cinder Glade
24 Creatures


4 Druid of the Cowl
3 Primal Druid
1 Nissa, Vastwood Seer
1 Pilgrim's Eye
2 Reclamation Sage
3 Rogue Refiner
3 Treasure Keeper
1 Ishkanah, Grafwidow
2 Elder Deep-Fiend
3 Vexing Scuttler
1 Ulamog, the Ceaseless Hunger
7 Instants


4 Grapple with the Past
1 Kozilek's Return
2 Pulse of Murasa
2 Sorceries


2 Baral's Expertise
4 Planeswalkers


1 Chandra, Torch of Defiance
1 Kiora, Master of the Depths
1 Nissa, Vital Force
1 Chandra, Flamecaller

About the Creator
[
]
Nighthawk233 is a Magic: The Gathering player and youtuber, who publishes videos about Deck Techs and Gameplay focusing on Magic Duels.
Visit his youtube channel here.
About the Deckbuild
[
]
Temurgeing Talent is a
(Temur) midrange deck.
To see detailed deck tech of the deck watch this video.
Special Remark
[
]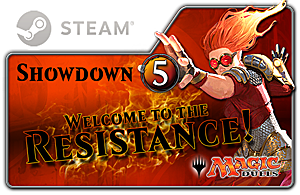 This is the winning deck in the Steam Showdown — Welcome to the Resistance! tournament finals.
Watch the final matches Nighthawk233 vs DeadRoma here.