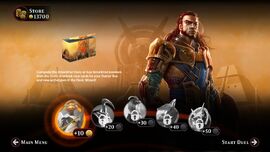 Story mode in Amonkhet consists of five single missions.
Complete the Amonkhet Story or buy Amonkhet boosters from the Store to unlock new cards for your Starter Box and new archetypes in the Deck Wizard!
Storyline
[
]
As an initiate on Amonkhet, you've been told of the glorious afterlife promised to the worthy by the God-Pharaoh. But the path to become worthy is tumultous—five brutal trials that challenge every part of your being. You honed your body, your mind, and your soul. Can you withstand the tests of the five Gods?
Rewards
[
]
Successfully finishing all missions grants a total of 150

. Completing the last mission unlocks all cards from Amonkhet's Starter Box.
Video Walkthrough
[
]
Watch this full campaign walkthrough video playlist made by OriginMD.
Single videos can be found on the regarding mission pages.